Well that Question might sound stupid but here is some Info about Lionel Messi.
Full Name : Lionel Andrés Messi Cuccittini
Date of birth: June 24, 1987 (age 22)
Place of birth: Rosario, Argentina
Brothers: Rodrigo, Matias, Hijos
Sister: Marisol
Mother: Celia Cuccittini
Height: 1.69m (5 ft 6 1⁄2 in)
Playing position: Striker/Winger

Lionel Andrés Messi
Leo Messi is the best player in the world. Lethal in the one on one, this modest Argentinian has speed, dribbling and shooting skills. But despite so many individual virtues, he is also a remarkable team player.
This Argentinian striker's footballing career started in 1995 at Newell's Old Boys, where he played until the year 2000. At the age of 13, Lionel Messi crossed the Atlantic to try his luck in Barcelona, and joined the Under 14s.
Messi made spectacular progress at each of the different age levels, climbing through the ranks of the different youth teams and then Barça C, followed by Barça B and the first team in record time.
In the 2003-2004 season, when he was still only 16, Messi made his first team debut in a friendly with Porto that marked the opening of the new Dragao stadium. The following championship-winning season, Messi made his first appearance in an official match on October 16, 2004, in Barcelona's derby win against Espanyol at the Olympic Stadium (0-1).
With several first team players seriously injured, the services of several reserve team players were called upon, and Messi became a regular feature of Barça squads. On May 1, 2005, he became the youngest player ever to score a league goal for FC Barcelona - against Albacete when Messi was only 17 years, 10 months and 7 days old. That record would eventually be beaten by Bojan.
At the Under 20 World Cup in Holland, Messi not only won the title with Argentina, but was also the leading goalscorer and was voted best player in the tournament. Aged 18 years, he had become one of the hottest properties in the world game. Shortly after, he made his first full international appearance in a friendly against Hungary.
His breakthrough as a player came in the 2005-06 season, starting with an amazing performance in the Joan Gamper Trophy match against Juventus. He was also outstanding at the Santiago Bernabéu, in Barcelona's unforgettable 3-0 win, and also at Stamford Bridge, in the Champions League match against Chelsea. Injury kept him sidelined for much of the latter stage of the season. Messi played a total of 17 league games, 6 in the Champions League and 2 in the Copa del Rey. Messi scored eight goals.
The following season Messi moved up a gear and astounded the world with goals such as the one he scored against Getafe in the King's Cup. In the 2006/07 season, and even though the team didn't win any titles, the Argentine was second in the FIFA World Player awards and third in the Golden Ball. He continued to develop in the 2007/08 campaign, when he scored 16 goals and gave 10 assists in the 40 games he played in. In 2008, Leo Messi was runner up in the FIFA WORLD PLAYER AWARD for the second season in a row.
In the 2008/09 season, and now without Ronaldinho alongside him, Messi continued to be the main star of the Barça line up. He managed to stay injury free all season, and played 51 games, scoring 38 goals. The Argentinian was also fundamental in the two finals, scoring Barça's second goals in both.
Messi also consolidated his place in the national side, now having played at a World Cup (2006) and Copa America (2007) for Argentina. In 2008 he also went to the Olympic Games in Beijing, where his country won gold.
PROFILE
Messi is an excellent, sensational, unique player. He is astoundingly creative, has amazing individual skill and is able to constantly put his rivals at unease. A natural left footer, he is stunningly versatile, and can play either in the middle or on whichever of the wings required, although it is out on the right that he feels most comfortable.
He may not be very tall, but his speed and physique enable him to cope with even the toughest of defenders. He is surprisingly strong, and can hold on to the ball in style, as if it were stuck to his feet. There is simply nobody like him anywhere else in the game. He is also a specialist at all dead ball situations, especially free kicks and penalties.
His cold blood and ability to take on responsibilities are other virtues that make Leo Messi simply the best footballer on the planet.
HONOURS
FC Barcelona
2009/10 World Club Cup
2009/10 European Super Cup
2009/10 Spanish Super Cup
2008/09 Champions League
2008/09 Liga
2008/09 Copa del Rey
2006/07 Spanish Super Cup
2005/06 Champions League
2005/06 Liga
2005/06 Spanish Super Cup
2004/05 Liga
Argentinian National Team
2004/05 World Cup Under-20
2008 Gold Medal Beijing'08
Individual awards
2009 FiFa World Player
2009 Ballon d'Or
2008 2nd best FIFA WORLD PLAYER
2007 2nd best FIFA WORLD PLAYER
Statistics 2009-10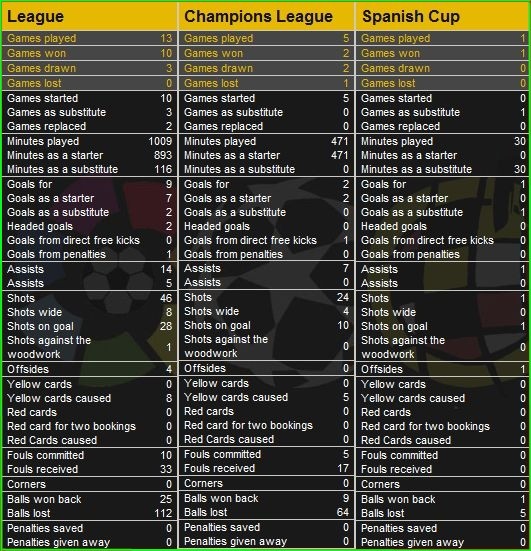 Last edited by GarciaMessi19 on Mon Dec 21, 2009 7:40 pm.